Clown
has signed on to do a weekly column with
Headbanger's Blog
where he will show some of the photographs he's taken through the years and give a description of them.
"We couldn't be more thrilled to launch our new weekly feature from Slipknot percussionist Shawn "Clown" Crahan during our celebration of the 20th anniversary of "Headbangers Ball." As you may know, in addition to beating on stuff for the Knot and playing drums for Dirty Little Rabbits, Crahan is also a serious photographer.
When he's not writing or creating music, he's frequently manipulating high-tech cameras, Polaroid film, scanners and Photoshop to create images that are both haunting and beautiful. Whether shooting portraits, candids, still-lifes, landscapes or something else entirely, Crahan imbues his shots with his own fears, frustrations and fascinations with sex, death and dreams. Click "more" to view the first picture in our weekly series from Crahan and read his fascinating, bizarre and sometimes disturbing commentary.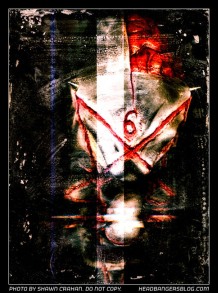 Image Copyright - M. Shawn Crahan
It's basically a self-portrait of an Iowa mask that I wore. Self-portraits, for me, are one of the most fundamental and important aspects of experimenting with my own art. I've never really liked the way I look, so I'm always exploring myself. I've pretty much analyzed my entire body through photography as a way of cutting myself open and letting a lot things of my fears about myself out. It's an experiment that I'm doing to get a little bit healthier about the way I feel about who I am.
myself.
This is one of my favorite self-portraits because it was in a very dark place in my life. I had this black mask made and I quite literally only wore it onstage twice for approximately 30 seconds. It just didn't work. I don't know if it was the latex or the other materials in it or just the way it felt, but it just wasn't happening. I explored myself a lot with this particular mask during the Iowa cycle in my basement.
To me, this is basically a really good example of experimenting with oneself through a medium of choice — this choice being photography. So, this is me confronting my fears and it's pretty heavy for me because it's always in the mask, or it could be outside of the mask. They really are the same thing.
As far as the image goes, this is a digital photo. I manipulate cameras. I more or less deconstruct them. For example, there's a film plane in the back of film cameras, and there are all kinds of mechanisms that keep the film down. Well, I'll take those out so the film's floating and nothing's even. This particular picture was done with a lot of glass and layers of things in front. But it's all liquid and colors. And then basically what I do with a lot of my art is I'll pull it together after the photo's done.
There's always a problem with the depth of reality in photography, especially if you're going to bring it out into a touchable reality because you want to use inks and paper and they make this vision on the screen look much different. So, I'll pull these images into something like Photoshop and make the blacks black and the white white. And that's how you get the reds to pop a little more. After you take the photos, you touch them up. It's revision. And revision is something that's well needed.
In fact, I've had this photo since 2001 and I've revised it a dozen times. I even messed with the brightness and contrast just a little bit yesterday before I sent it just because I'm on a new laptop and the picture has been sitting in a hard drive for a long time, and it's got a mind of its own. When it showed up yesterday, it had some things to say.