UK-based author Joel McIver's twelfth book,
"The 100 Greatest Metal Guitarists"
, will be published globally in January 2009 by Jawbone Press, the world's leading publisher of guitar titles. Featuring a foreword by Glen Benton of DEICIDE, the book takes the reader in reverse order from No. 100 to No. 1, the greatest metal guitarist of all time. McIver — a regular contributor to the UK's Total Guitar magazine, the biggest guitar mag in Europe — based his selection on the technical ability and historical significance of each player and adds that all generations of metal are covered in the book, with the oldest guitarist aged 61 and the youngest a mere 26.
McIver told BLABBERMOUTH.NET, "The idea for this book came to me a couple of years ago after I read a list of the supposed 100 best metal guitarists of all time in a popular guitar magazine that should really know better. The list contained all these non-metal guitarists like Neil Young and Kurt Cobain, so I thought, 'Fuck this!' and wrote my own list, which became an 80,000-word book. The 100 guys I've included are pure metal: there's no-one taken from the hard rock world, so as much as I respect Randy Rhoads, Angus Young, Joe Satriani, Yngwie Malmsteen, Ritchie Blackmore and the rest of the rock shredders, they'll have to wait for another book. 'The 100 Greatest Metal Guitarists' features musicians from heavy metal, thrash metal, death metal, black metal, power metal, doom metal and grindcore bands and that's it!"
He added: "I'll post a few of the entries to my website before too long, but to make things a bit more interesting, let's see if anybody can correctly predict my Top 5 players. The first 10 people who email me with the correct five guys will get a free signed copy."
The shot of McIver with Kerry King of SLAYER and
Mick Thomson
of
SLIPKNOT
, both of whom feature in the book: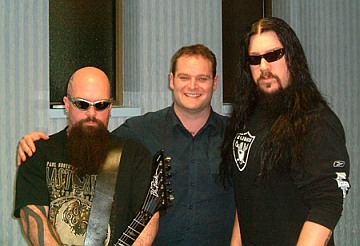 Kerry King (Slayer) // Joel McIver // Mick Thomson (Slipknot)