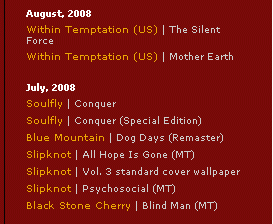 According to The Pulse of Radio,
SLIPKNOT
reveals a few new songtitles in the new issue of
Revolver
magazine, which focuses on bands appearing on this summer's
Rockstar Energy Mayhem
tour. Among the tracks tentatively named are "Moth", "Chapter One", "The Eleventh March", "Dirge", "Dead Memories", "Vendetta" and "Psycho Social". Although the title of the album itself is not revealed, all hope is not gone: the band plans to unveil the name of the August 26 release any day now.
One person who might like to know more about the disc is SLIPKNOT percussionist
Shawn "Clown" Crahan
, who admitted to The Pulse of Radio that he's not up on the latest details. "I have not really spent a moment with this record," he said. "I'm working on myself, and I have been for the last three years, after my father passed and my mom has Alzheimer's, and kids are growing up, and everything's just crazy. So I spent a lot of time on me. So I haven't really even sat down and listened to this whole record to begin with. I don't even know what most of the songs are called."
"Clown" also told The Pulse of Radio that making the new record was both the "worst" and "best" recording experience of his life.
A heavier track from the new SLIPKNOT album will be sent to metal radio shows on June 15, with an official rock radio single coming on June 30.