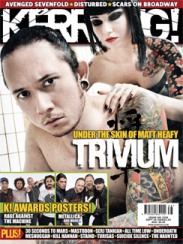 Kerrang! The Album '08
- a 42 track compilation of the most essential and hardest rocking tracks of 2008 - hits stores on Monday.
"Green Day, Nickelback, My Chemical Romance and Linkin Park are the biggest bands of the decade," states Kerrang! editor Paul Brannigan. "Kid Rock has scored the soundtrack to the summer. Rock is back? Nope, rock never went away actually! Kerrang! has driven the rock scene in the UK for the past 27 years and here's our state-of-the-rockin'-nation address for 2008. Turn it up loud and prepare to have your mind blown by the hottest bands in the world."
Kerrang! The Album '08 features the following tracks:
CD1:
Kid Rock - All Summer Long
Nickelback - Rock Star
Weezer - Pork And Beans
Biffy Clyro - Saturday Superhouse
Good Charlotte - Keep Your Hands Off My Girl
Pendulum - Propane Nightmares
Slipknot - PsychoSocial
Enter Shikari - Sorry, You're Not A Winner
Linkin Park - Given Up
Serj Tankian - Empty Walls
Airbourne - Runnin' Wild
Black Tide - Warriors Of Time
Killswitch Engage - Holy Diver
Dillinger Escape Plan - Black Bubblegum
Scars On Broadway - They Say
Bullet For My Valentine - Waking The Demon
Slaves To Gravity - Mr Regulator
The Gaslight Anthem - The '59 Sound
The Nightmarchers - I Wanna Deadbeat You
Coheed And Cambria - Feathers
30 Seconds To Mars - The Kill
CD2:
Green Day - American Idiot
My Chemical Romance - Welcome To The Black Parade
Fall Out Boy - This Ain't A Scene, It's An Arms Race
Elliot Minor - Parallel Worlds
Simple Plan - When I'm Gone
Panic At The Disco - Nine In The Afternoon
Alkaline Trio - Love Love Kiss Kiss
The Blackout - Spread Legs, Not Lies
Funeral For A Friend - Waterfront Danceclub
Madina Lake - House Of Cards
You Me At Six - If I Were In Your Shoes
Billy Talent - Red Flag
Fighting With Wire - Everyone Needs A Nemesis
HIM - Wings Of A Butterly
Avenged Sevenfold - Afterlife
Machine Head - Aesthetics Of Hate
Atreyu - Falling Down
Kids In Glass Houses - Give Me What I Want
Kill Hannah - Lips Like Morphine
Cancer Bats - Hail Destroyer
Gallows - Orchestra Of Wolves
Check out the TV trailer here: