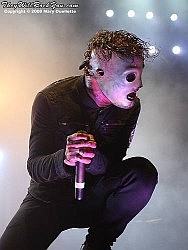 Move over, Marilyn Manson. The masked men in
Slipknot
are the latest heavy metal dudes being blamed for a school slaying. On Monday, a teen wielding a sword attacked four people at his high school in Krugersdorp, South Africa, killing one. According to eyewitness accounts, the suspect was wearing a mask similar to that of Slipknot drummer Joey Jordison. A community leader was quick to blame "bad Satanic music" for the incident.
Slipknot front man
Corey Taylor
calls bullshit. "Obviously, I'm disturbed by the fact that people were hurt and someone died," he tells Blender. "As far as my responsibility for that goes, it stops there, because I know our message is actually very positive." In the past, when Slipknot was linked to real-world violence, "I used to sweat it really hard," he adds. "But the thing I have to realize is the fact that I'm not encouraging anybody to kill anybody. I encourage our fans to express themselves, to stick together and to help each other."
"You have something like this happen, it could have been Marilyn Manson, it could have been any number of people who make art that is startling visually, on the darker side. It could've been Pat Boone, for Christ's sake. At the end of the day, there are always going to be mental disorders and people who cause violence for no other reason than the fact that they're fucked up and lost. And all we can do is try to learn from it."
Meanwhile, Slipknot — whose fourth album, All Hope Is Gone, comes out next week — have been forced to cancel their upcoming European festival dates to allow Jordison time to recover from a broken ankle.