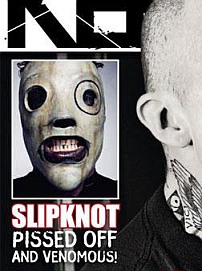 >> In tomorrow's Kerrang! magazine,
Slipknot
frontman
Corey Taylor
gives an insight into the band's upcoming, fourth studio album, All Hope Is Gone, with a world exclusive track by track report.
"Our new album is gonna shock the fuck out of people," Taylor told Kerrang! "I'm so fucking excited about it!"
The follow-up to 2004's Vol. 3: (The Subliminal Verses) was recorded at Sound Farm Studios in the band's home state of Iowa with producer Dave Fortman (Evanescence, Simple Plan, Mudvayne).
"We just wanted to make something fresh and exciting," Taylor continues. "And after all the shit that we've been through in the last three years, it was time to take the gloves off again!"
For the full low down be sure to pick up a copy of tomorrow's K! to see Taylor let rip on religion ("It all comes down to the fact that we have to save ourselves." ), George W. Bush ("It's a dressing down of any civilization that takes themselves too seriously and where the 'leaders' are so pretentious that they think they are deemed to speak for the people.") and emo ("It wouldn't be a Slipknot album if I didn't rag on the recording industry. This time, it's about all those little emo boys with their sweet haircuts .").
>> Slipknot's new video for "Psychosocial" will be world premiering on MTV's show F'n MTV at 8:00pm this Friday July 18th.