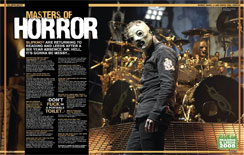 Slipknot
will be rocking the Reading and Leeds festivals this weekend. In an exclusive interview in tomorrow's Kerrang! magazine, we asked Slipknot frontman
Corey Taylor
how he feels about returning to the former Carling Weekender after a six year absence, and if he is at all unnerved by the prospect of facing the infamous British bottle throwers..
"No, not at all," laughs Taylor. "Because, honestly, we're gonna step out on stage and start throwing bottles at people. Just kidding! That was a joke. Please don't kick us off the bill!
"I think we've earned the right to be on the main stage at Reading and Leeds," he adds. "And I think a lot of people will be there to see Slipknot. It's not like the first time I've had shit thrown at me, let's put it that way. The bottles are fine. The bottles of piss are fine. But when you're throwing whiskey bottles and wrenches and shit? That's a bit much. Please leave that shit at home, folks."
When asked if Metallica and Tenacious D will have a hard time following the masked men from Iowa, Taylor said:
"Yeah, but we'll take it easy on them. It's The D and it's The 'Tallica for fuck sakes! We can only be so badass, you know what I'm saying? "
For the full interview, be sure to pick up a copy of today's Kerrang! magazine.