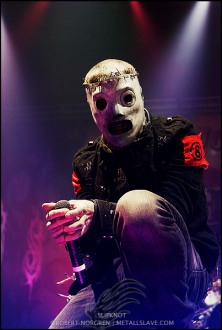 Slipknot1.com:
Corey Taylor recently took some time out to sit down and talk with The Vancouver Sun to preview Slipknot's upcoming show in the area.
Head over
now to take a look in this great interview where Corey really reflects on the bands early days.
Out of Iowa: Slipknot somehow survives
When Slipknot's third album, Iowa, arrived to considerable fanfare in the summer of 2001, drummer Joey Jordison levelled the boom by saying he didn't think the band could last another two albums.
The pain and suffering of the band's combative, combustible live shows were taking their toll on each of the nine members, he said. How long the Grammy-winning metal act from Des Moines, Iowa, could continue to be an artistic force was also an issue, Jordison added.
Using Jordison's admission as a ruler, that would make Slipknot's chart-topping album from last year, All Hope is Gone, its swan song.
Slipknot singer Corey Taylor didn't try to avoid the issue during a recent interview. In fact, he alluded to the fact that Slipknot, while still a commercial force — in fact, one of the few in the metal genre to sell millions of records in the illegal download era — might come to an end sooner than most think.
"I definitely think we've got at least one more pivotal album to make. After that, it's anybody's guess. I know myself and I know the mentality of a lot of guys in the band. We don't ever want to get to the point where we're making albums as an excuse to tour. If we're not saying something new or we're not trying to at least branch out musically, then what's the point?"