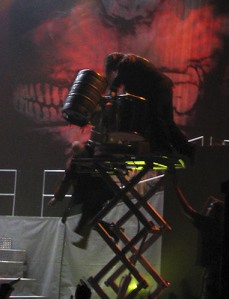 SLIPKNOT
has made its brand new track
"All Hope Is Gone"
available for free download via the
Roadrunner Records
web site
(free sign-up required). The title cut of the band's new album will be downloadable for a period of 24 hours ending at midnight EST tonight, then will be available as a download single from digital retailers like iTunes and Napster on June 23.
"'All Hope Is Gone' is a classic-style SLIPKNOT track pure and simple, but this fucker is jacked up a few thousand volts!" drummer
Joey Jordison
told Kerrang! magazine. "The song, music and theme speak for itself. It's a song about the world at stake: all the situations at hand, be it personal or worldly, and trying to turn things into a positive. Sometimes you have to face the grotesque to bring about something amazing."
Jordison revealed that "All Hope Is Gone" is a true collaborative effort and was one of the final songs recorded for the band's follow-up to 2004's "Vol. 3: (The Subliminal Verses)", which is also called
"All Hope Is Gone"
.
"I actually demoed this song alone and didn't know what would come of it as we were nearing the end of the album," he said. "I was hoping it would make it. I knew it would, once everyone spewed their venom upon it.
"A lot of the grind riffs for the verses changed into riffs
Paul
[Gray, bassist] had years ago, way before SLIPKNOT," he added. "Funny how things won't die.
Mick
[Thomson, guitarist] came in and fucking set fire to the track and
Jim
[Root, guitarist] followed as well. Once
Corey
[Taylor, frontman] put his fucking vocals on it, that was it, man. That guy's voice and conviction could sell narcotics to a nun."